I was lucky enough to attend the BtoB Digital Edge Live conference in San Francisco this week, and Jeremiah Owyang's keynote really provided some food for thought.
For me, it suggested that as more and more companies manage to find their social media ROI, there seem to be two challenges that need to be met before a company truly becomes a social business: to educate all employees about the role they can play in this arena, and to gain the ability to predict their customer's behavior.
Holistic "Honeycomb" Framework
Owyang's Holistic "HoneyComb" Framework suggests that every individual in an organization becomes socially enabled, as they all have an important part to play. In my opinion, this is what all businesses should aspire to, in order to become truly 'social'. Each member of an organization should be educated, and therefore enabled, to engage and interact with consumers on a social level in the online world.
Take a Facebook brand page, for example. Who's responsible for maintaining that page? Is it marketing? Customer service? Sales? All of these departments are necessary for the successful running of this page, and so all should be involved. The Honeycomb Framework allows for this, and it is up to the company to educate it's employees to enable them to participate.
Case Study: A great example of this is Dell's Social Media and Community University program, designed to educate all Dell team members – regardless of their job role – on social media strategy, governance and principles.
Dell claims that "by empowering team members to get more involved the right way, we can imbed social media deep within the fabric of our company for the benefit of our customers and our brand".
Enlightenment
The second target for all businesses ought to be using social capabilities to predict their customer's needs, according to previous behavior.
Owyang presented this in the form of a five-level Social Business Hierarchy of Needs, with 'Enlightenment' – the real-time, predictive nature a company should aim for – sitting at the top.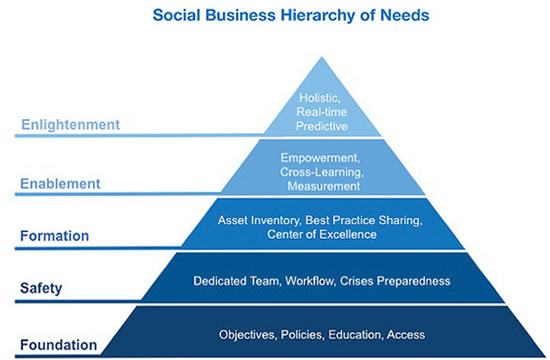 In simple terms, this means that we need to listen, learn and engage with our customer base. If we do this successfully, we are able to analyze their behavioral patterns in such a way that we can predict their needs before the customer even hints at them.
Case Study: You may well already have heard about how Target, through analyzing their customer's behavior, were able to predict the pregnancy of a teenage girl before her father even knew.
By 'listening' to their customers and understanding their habits, Target were able to create a system whereby they knew that the girl was pregnant, and could provide her with relevant content (in the form of coupons, ads and vouchers) that applied to her specific situation.
Conclusion
Both are interesting concepts and should really be an ambition for all businesses. Imagine a scenario where you knew the solution to a customer's problem before they even asked for it, and the correct department in your organization was fully prepared to deliver a solution when that request finally came.
It seems very futuristic, and even a little scary, but would allow a business to meet their customer's needs in the most efficient and productive possible way. While 99.9% of us are still a long way from this goal, it seems perfectly natural to assume that this is where we will progress to within a decade or so.
Do you consider your business to be a 'social' one? If so, how close are you to achieving the levels set by Dell or Target?