Before I begin, let me first clarify that something is not necessarily "free" just because you don't pay money for it. If it takes up a lot of your time, then it is not free. Social media is not free. SEO is not free. They both take an incredible amount of time, and as they say…time is money.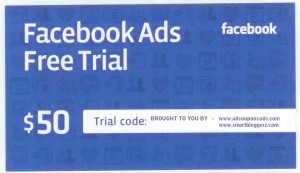 For that reason, this list does not highlight activities which simply remove a financial cost by implementing a burden of time. What this list intends to provide are effective ways of getting for free the type of visibility that usually costs dollars and cents.
That being said, here are my top four premium advertising tactics that are free:
1. Ad Coupons
Keep an eye out for free advertising coupons from search engines and social platforms. Facebook and Google in particular are renowned for offering free advertising coupons to get users to test out their advertising platform.
In the last three months alone, I have made use of $200 of free Facebook advertising, $100 of free Google Adwords advertising and $100 of free LinkedIn advertising. These have provided me with new Facebook fans, site traffic and leads.
2. What can you offer other than money?
When some people think of advertising they think of money, but it doesn't have to be like that. As long as both parties benefit from the transaction, it's irrelevant what goods are exchanged.
What can you offer someone other than money? What services can you provide that the other party finds valuable? Brainstorm this and you'll be surprised with the creative ideas you come up with.
3. Social Sharing
Before I hear of groan of "here comes the social media spiel", consider this:
A Facebook page I administer has 14,000 fans. That page, through posting 5 times per week, received just shy of half a million impressions on Facebook last month. Half a million impressions – that's a fantastic return on what I put in.
Additionally, the majority of these impressions were acquired through fans engaging with the content that was posted on the page. This means that it's not simply the brand name and logo popping up in news feeds randomly, but impressions in the feeds of the friends of those engaging. This "social" advertising (basically brand advocacy) is what Facebook based Sponsored Stories  - a key part of their advertising platform – on, and so should be perceived with the value it deserves.
Note: In my opinion, a Facebook news feed impression is more valuable than an impression on LinkedIn, Twitter, Google+ etc. I feel that users have closer ties to their connections on Facebook than other platforms, so the friend advocacy aspect is more powerful. However, this visibility if of course available on other networks too.
4. Review Websites
If not a restaurant, bar or physical location, many brands don't consider being listed on a review website. For this reason, I feel they're missing a great opportunity. If you offer a product and people use that product, you can (and should) be reviewed.
You have the obvious Yelp, Amazon and Trip Advisor to name a few  - but think further afield. There's JudysBook, Angie's List, MerchantCircle, BBB.org, PowerReviews and SiteJabber (and many, many more). Those just listed, between them, provide reviews for almost all trades and services, from plumbing to travel brands to SEO consultancy. Do your research and find well-trafficked sites where you could list your business.
Those are my tactics for getting free, but premium, advertising visibility. Do you have any you could add?